Contact Haute Couture Drapery Toronto
Please fill out the form below and our of our experts will be in touch with you. Feel free to call or email us. Our showroom in the mall is under construction and in a meantime we will come to your house for the estimate.
Please feel free to contact us to arrange an appointment to your home or office today!
GET A FREE QUOTE
Contact Now
Haute Couture Drapery offer no cost no obligation quote. Feel free to ask for quotes and our experienced team will get in touch with you.
Our Services
Haute Couture Drapery providing premium custom drapery. Browse our services and get in touch with us for FREE ESTIMATION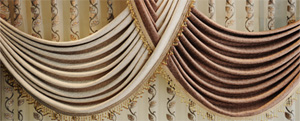 OUR CLIENTS SAY
Testimonials
Using Haute Couture Drapery was our right decision and we are happy customers. 100% recommended