About Haute Couture Drapery GTA
Add character, style and class to your home or office with Haute Couture custom made drapery and bedding. We are located in Improve Canada Mall in Vaughan, the largest and only Home Improvement Mall in Canada and serving Toronto, Mississauga, Brampton, Richmond Hill, Oakville and other GTA areas. Our mission is to decorate your home or office with the right look and feel and ensure that your custom drapery beautifully complements your home and office décor.
We offer finest quality custom made drapery and bedding solutions with a variety of different fabrics, colors and styles for your home and/or business. Our custom made drapery is designed to reflect your personality with a unique touch to enhance your home and office. Haute Couture Services include professional custom made drapery for both commercial and residential use designed by Bella, an interior designer with more than 30 years of experience and educated with all the current designs and norms in the home décor niche.
At Haute Couture Drapery, we add style, class, elegance and create trends. Our interior designers work with you to create a perfect drapery design that speaks volume of your persona while also keeping your room plan, layout and colors in mind. Our draperies are custom made to fit any shape or size of windows with 100% satisfaction guaranteed.
Revitalize your home and office image and character with our customized approach. We will design your drapery in conjunction with your home or office interior; be is traditional, contemporary or modern. We also pride ourselves to provide unsurpassed quality and attention to detail and will custom make virtually any style drapery imaginable according to your needs and desires. Overall, our philosophy has always been centered on inspiring our customers to express their personal style and persona.
Let us help you dress up your home and office with custom made drapery you will love
GET A FREE QUOTE
Contact Now
Haute Couture Drapery offer no cost no obligation quote. Feel free to ask for quotes and our experienced team will get in touch with you.
Our Services
Haute Couture Drapery providing premium custom drapery. Browse our services and get in touch with us for FREE ESTIMATION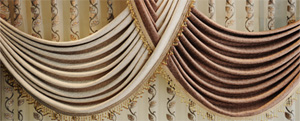 OUR CLIENTS SAY
Testimonials
Using Haute Couture Drapery was our right decision and we are happy customers. 100% recommended